Images from the mirror of the heavens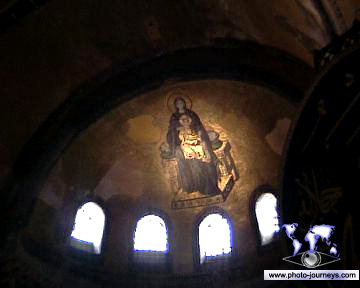 Istanbul,Turkey

Acknowledgements
Photo Details: Images from the mirror of the heavens. The apse of the Hagia Sophia mosque is dominated by a striking mosaic 'The Virgin with the infant Jesus on her lap'. The mosque was designed as an earthly mirror of the heavens and the interior succeeds in imparting .
Text Details: Inspire me to awe. A quotation attributed to Albert Einstein. Albert Einstein.
photo-journeys ID: 347.

&nbsp

&nbsp

&nbsp

&nbsp

&nbsp © Copyright. All rights reserved. &nbsp &nbsp &nbsp
BACK TO TOP