Flight of the fish eagle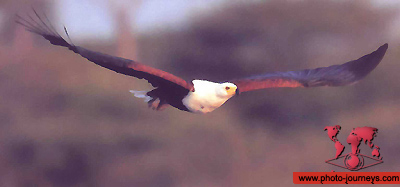 Kariba,Zimbabwe

Acknowledgements
Photo Details: Flight of the fish eagle. The fish eagle is the larger cousin of the American Bald eagle. The cry of the fish eagle is one of the most haunting calls in the African wild. Kariba, Zimbabwe. S.Arber..
Text Details: The truth you speak has no past and no future. From the book 'Illusions, The Adventures of a Reluctant Messiah'. Richard Bach.
photo-journeys ID: 100.