Springbok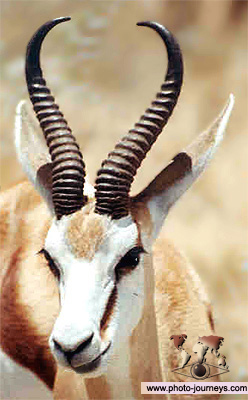 Karoo,South Africa

Acknowledgements
Photo Details: The national emblem of South Africa. 0.75m (3ft) at the shoulder and 1.25m (3.5ft) long, in a bouncing run attains speeds of 90 kmph (50mph) with leaps of up to 15m (50ft). Karoo. S.Arber.
Text Details: Excellence is a habit. Extract from the Hewlett-Packard Diary 2004. Aristotle.
photo-journeys ID: 141.

&nbsp

&nbsp

&nbsp

&nbsp

&nbsp © Copyright. All rights reserved. &nbsp &nbsp &nbsp
BACK TO TOP