Seat of the Sunbird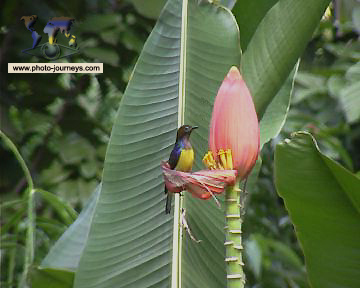 Singapore Botanic Gardens,Singapore

Acknowledgements
Photo Details: Seat of the Sunbird. A Collared Sunbird rests between bouts of sipping banana nectar. There are 4 genera of sunbirds: Nectarina is the largest group with distinctive long decurved bills; Anthreptes have smaller straighter beaks for insect catching; Aetho.
Text Details: Success. Extract from the Hewlett-Packard Diary 2004. Harry F Banks.
photo-journeys ID: 297.

&nbsp

&nbsp

&nbsp

&nbsp

&nbsp © Copyright. All rights reserved. &nbsp &nbsp &nbsp
BACK TO TOP